Posted by Tiger PingPong on 12th Aug 2022
How to Choose a Ping Pong Table - Ultimate Buyer's Guide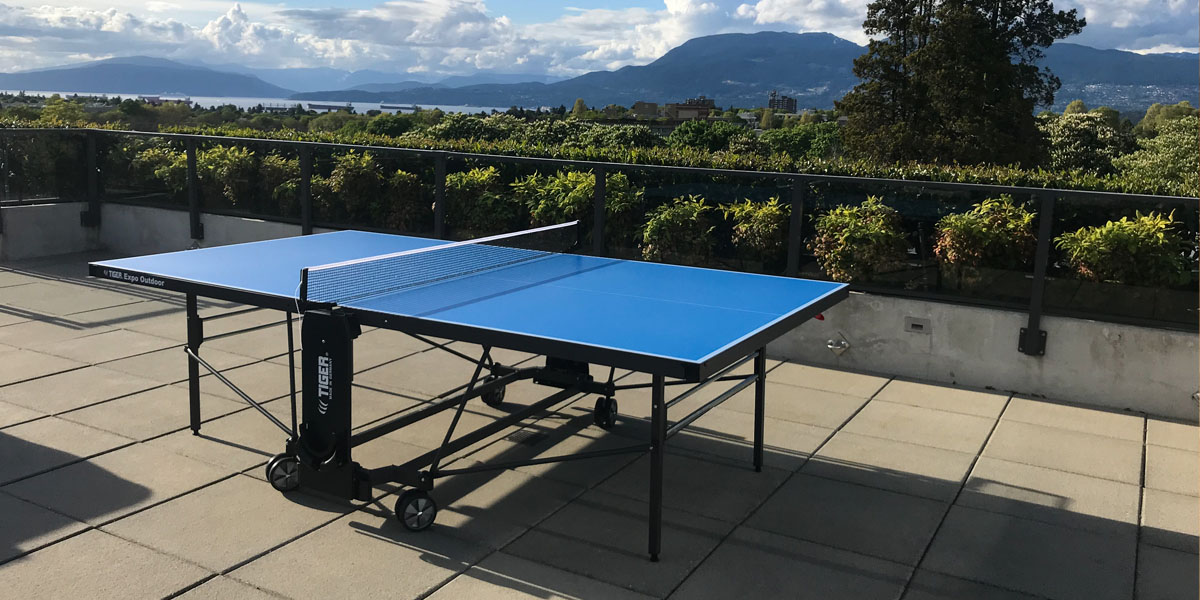 When you think about it, a ping pong table is a great investment. Not only will it provide hours of entertainment for you and your friends, but it can also be a great way to get some exercise. Plus, a ping pong table is great family fun if you have kids. So how do you go about choosing the right one?
This guide will cover everything you need to consider when purchasing a table tennis table. We'll help you decide where you will play table tennis, what to look for, whether you are buying recreational tables or premium tables or if you're on a tight budget. We hope by the end of this article you will know the right table for you so that you can buy with confidence and start playing.
Indoor tables versus outdoor tables
One of the first questions you must consider when purchasing a table tennis table is where you will keep the table. There are two options: indoor and outdoor tables. Most people choose to keep their tables indoors. It makes sense that for this, you want to purchase an indoor table tennis table.
You can consider an outdoor table tennis table if you have a large backyard and reasonable weather most of the year. Many people only have room in their garage for a table tennis table. Since most garages are not temperature controlled, you will need an outdoor table if this is where you plan to keep it.
There are several other considerations when it comes to choosing indoor vs outdoor tables.
Table tennis room size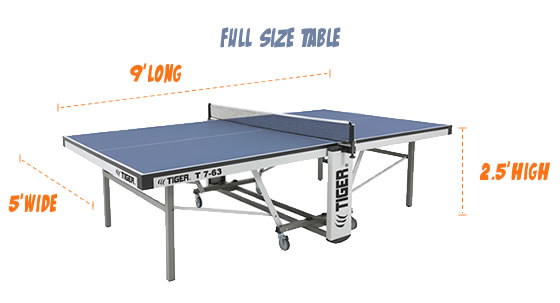 Now that you have an idea of where you will keep your table tennis table, we next want to figure out how much space you'll need for your table tennis room. The linked article goes into more detail, but the size of your room will be dictated by the size of the ping pong table you buy.
A full-size table size is 9' long by 5' wide and 2.5' high. It's also the official size mandated by the International Table Tennis Federation. Full-size tables are considered ITTF-approved tables. So, if you have dreams of playing like a pro, this is the table size for you. You'll want to have about 5' of room at the ends of the table and at least 2.5' along the sides. This means that the minimum room size for your table tennis room should be is at least 19' long by 11' wide.
How much does a table tennis table cost
Table tennis tables range in price from $200 at the low-end to $4,000 for a high-end table, with the average price for a table around $700.
Why is there such a wide range of prices for a table tennis table?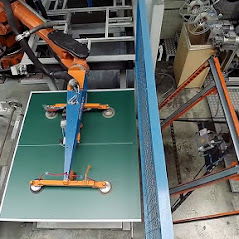 The wide range of prices is due to many factors, including the build quality, manufacturing location and materials. High-quality ping pong tables are made from strong materials and offer features like leg levellers and an open/close locking system. They are also made to have a tournament-quality playing surface powder coated to a butter smooth finish. Many tables with a higher price tag will also have a thick table top, whereas cheaper ping pong tables have a thinner table top.
Generally, outdoor tables are more expensive than indoor tables. This is because outdoor tables are made to be water and weatherproof. The process requires extra materials like resin or metal (aluminum), which costs more to manufacture.
What are the best table tennis materials
Where you store your table will determine the materials you want for your table, so let's break it down into indoor and outdoor tables.
Indoor tables
Since water, heat, cold, debris and other weather elements aren't a factor, wood is the ideal table material for indoor tables. It offers a smooth, sturdy surface that provides a consistent bounce and can last a long time. It's also easy to paint and a cost-effective option. Most indoor tables are plywood or particle board (chipboard). However, the higher price tag tables that professionals use are typically high-density fiberboard.

Outdoor tables
These tables need to be able to withstand harsh elements. Untreated wood is not an ideal material for outdoor table tennis tables as it is likely to warp, shrink, crack or expand based on the weather. When it comes to quality outdoor ping pong tables, solid materials like aluminum and concrete are ideal.
If you plan to move your outdoor table for storage, make sure it has wheels, as outdoor tables are usually heavy. Some inexpensive tables will be made from plastic, which is great for portability but not the best playing surface compared to other materials.
Top qualities to look for when buying a ping pong table
If you want to purchase a ping pong table that will last a long time and give you a professional playing experience, you'll want to consider several guidelines to find the best quality tables.
Playing surface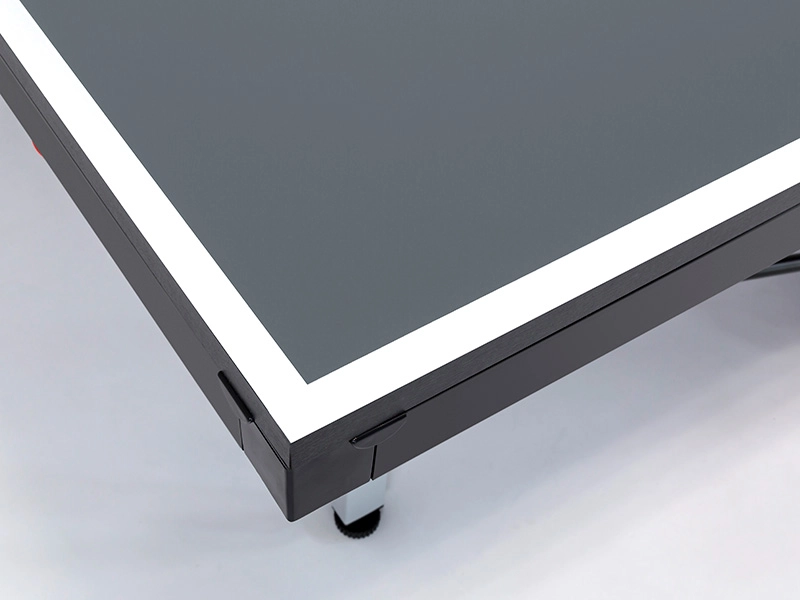 First and foremost, you want the playing surface to match your playing level. We recommend that you start with an indoor table with a wood finish. This provides excellent playing quality at a reasonable price but make sure to check the thickness of the tabletop as this has an impact on the cost and the quality. High-quality tables have a thicker surface that generally provides a better playing experience and lasts longer.
For an outdoor table, you should look for a solid metal that balances weight and portability. We like pure resin table tops that have a steel frame. This provides a weatherproof surface while keeping the weight to a minimum.
Frame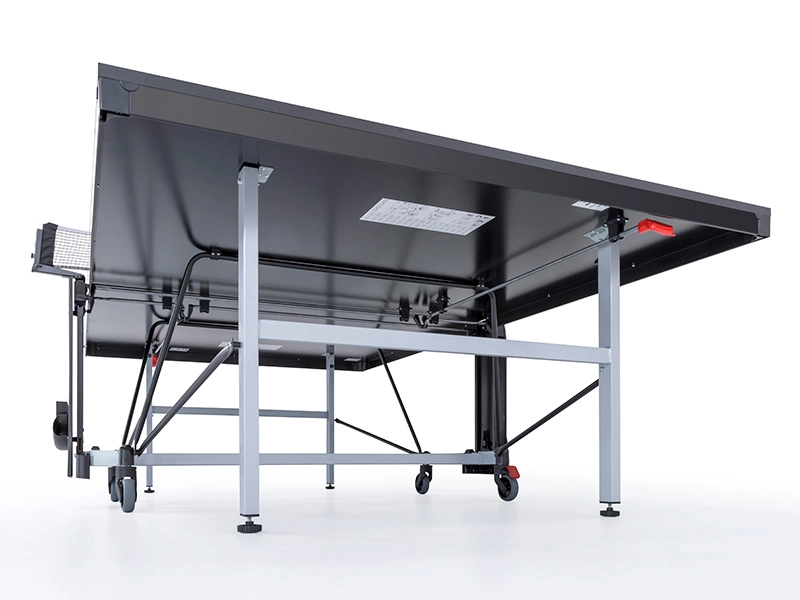 The table legs should be made from a solid and stable material like steel so the table won't wobble or shake while you play. It's also helpful to find a ping pong table that can be folded up. This is great for practicing by yourself or for easy storage. If you want to be able to move your table, make sure the frame also has locking wheels attached. Finally, good table tennis tables come with adjustable leg levellers to ensure you play on a level surface.
Portability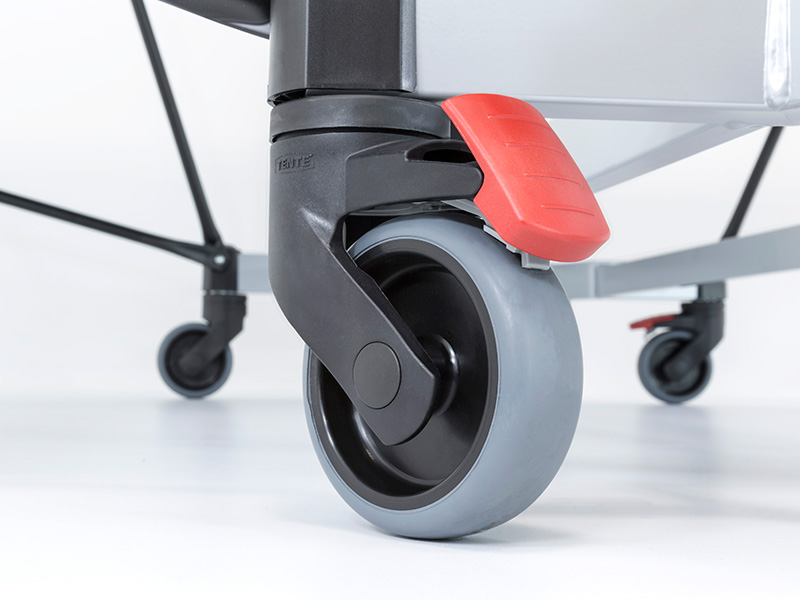 Before buying a table, you'll want to decide if you need to move your table. Depending on the size of your room, you may want only to have the table open when you are playing and then folded up when you're not playing. Or, perhaps, you have an outdoor table and want to be able to move it to a different place in your yard. If you feel you want to move your table for whatever reason, it's best to look for one with locking wheels attached.
Colour
Table tennis tables come in a variety of colours to suit your decor. The most common colours are green, blue and grey. Choose a colour that best fits your environment. You'll want to consider if you are playing inside or outside. A dark table may get hot in the sun. Also, ensure that the table you buy comes with a matte finish. You don't want the surface to be reflective because this can impact your ability to see the ball.
Price
As noted earlier in this guide, ping pong tables come at various prices. You'll want to consider your budget, your long-term goal (are you going for the Olympics or just playing with friends), and any important, must-have features. From here, you can find the best table that meets your needs and wants. This will give you years of enjoyment.
Storing your table tennis table
You'll want to consider your storage space before you buy a table. Here are a few thoughts.
Folding vs one-piece table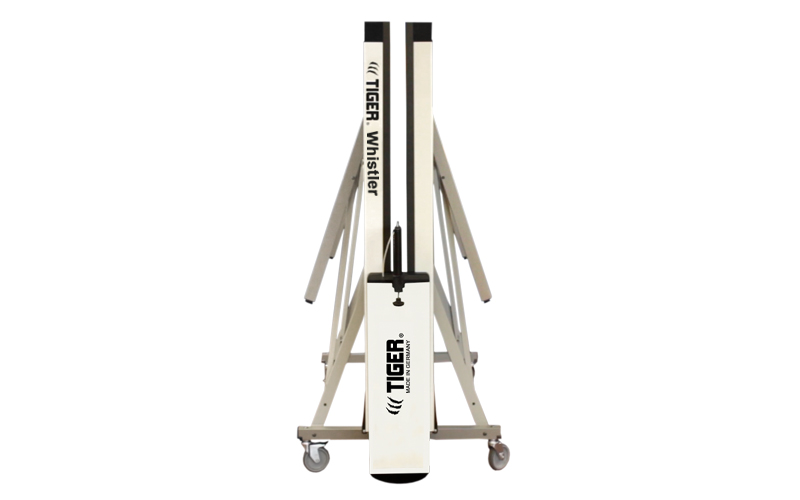 Depending on your storage space and needs, choosing a folding table might be the right table for you as it offers compact storage. It's a space-saving design that many people with small spaces use. A folding table has two separate halves. Each of the table halves can be folded up. There is a hidden advantage to this in that you can fold one half up and practice playing table tennis by yourself. This is sometimes called a playback feature or playback mode.
On the other hand, if you plan to keep your table in one place, a one-piece table may be a simpler option. Set it up and start playing a table tennis game!
What type of table do the professionals use
Professional table tennis players use the highest-quality tables. These tables focus on a quality playing surface. That means most professionals play table tennis using tables made of high-density fiberboard. This provides a smooth surface that allows a consistent bounce.
Beyond the playing experience, professional tables also offer quality table design. Quality ping pong tables should match both function and form. Look for a thick wood tabletop with a unique frame design built by quality table tennis manufacturers. These table tennis tables often cost more but are sure to impress your friends and opponents.
Where to buy table tennis tables
In-Store
If you're new to ping pong and aren't part of one of the many table tennis clubs, it's a good idea to start looking for a table in-store. There are typically many table tennis stores near you. Just run a search on Google like ping pong store near me. When you get to the store, try a few different tables. Particularly, test out tables that have different tabletop materials. Use the guide above to determine the other features you'll want to look for.
Here are a few questions to ask the salesperson when buying a ping pong table:
What are the tabletop and frame made of?
How easy is it to assemble?
How do I maintain the table? Are there recurring costs?
How much does it cost to ship the table to my place?
What is the warranty? What does it cover?
Online
In today's world, purchasing a ping pong table online is the most convenient way to buy a table. There are many reputable brands that you can choose from.
Before purchasing online, be sure to investigate the seller. This is vital if you use a marketplace like Amazon, Kijiji, Walmart, BestBuy, or eBay to buy your table. Although they may have cheaper tables, many sites use third-party sellers and limit their responsibility if something goes wrong. Buying direct from a ping pong store like Tiger PingPong means you know who you're buying from and can be confident you are getting a quality table.
Whether you purchase in-store or online, check the warranty, shipping costs, and prices for any replacement part. This will ensure that the table meets your budget over the lifetime.
Final thoughts
Choosing a ping pong table for your home or office is a great idea. It will offer you loads of fun for your friends, colleagues or kids. Like most purchases, pick out the features that matter most to you. Refer back to this guide if you need help. And, of course, reach out to our knowledgeable team if you have any questions.
Enjoyed this article? Consider sharing or linking to it. We have more ping pong resources for you.